It all starts with a place.
Where I've been is
what I write about.
What a moment, when I picked up this week's New Yorker -- the issue date is June 9 -- and found, in a profile of my former student, John Green, a pungent, lively, and altogether true account of the seminar he took with me, back in the day. It made my day, my week...
You can watch the video of my talk for the Kenyon Unique series here. It's subtitled "Thoughts on Gambier and Other Islands."
It's been a key fact of my writing all along. Place matters, and my places matter most to my work. Case in point: my new novel The Master Blaster is out now, with a terrific Janet Maslin review in The New York Times. It's all about Saipan, long one of my island redoubts, one I've returned to again and again.

Among pre-publication reviewers, Booklist recommends The Master Blaster for "its interesting character development, plot twists, and 'gotcha' ending." Library Journal writes: "Kluge paints an entertainingly sardonic portrait of this newest part of America which he presents, more generally, as being emblematic of 'where America ends.'" In Stewart O'Nan's opinion, "Delving into his rich setting, P.F. Kluge patiently lays out a tale of intrigue and ignorance worthy of Graham Greene." And Tony this, from Tony D'Souza: "When four lost souls arrive on the same flight to Saipan, they wager who among them will last the longest. Fear, violence, sex and money blow like trade winds across this Fantasy Island, a microscopic petri dish of greed and race sweltering in the American Pacific. Kluge is among our finest novelists, and he flexes his muscles over this postage stamp of territory. Like all the greats before him, he saves his best line for last, in this, his greatest book."
Kirkus Reviews is applauding A Call From Jersey
as "heartfelt, funny and poignant."

The Latest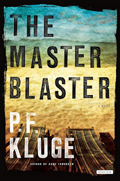 Buy
The Master Blaster

, my new Saipan-based novel, is just out. This is a nervous time. The test of writing is to see whether you can make what matters to you matter to an audience of strangers. Will they "get it." One huge answer appeared in the New York Times on Monday, March 26. "A Far-off Island Where the American Dream Curdles." This is the sort of review a writer hopes for. Read it all. Every word. And be assured that the morning I first saw the review rates among the top ten, maybe top five moments in my life. Share it with me, please.

Coming up in the February 2013 National Geographic Traveler: a piece I wrote on Singapore, which is on my short list of places-to-retire.